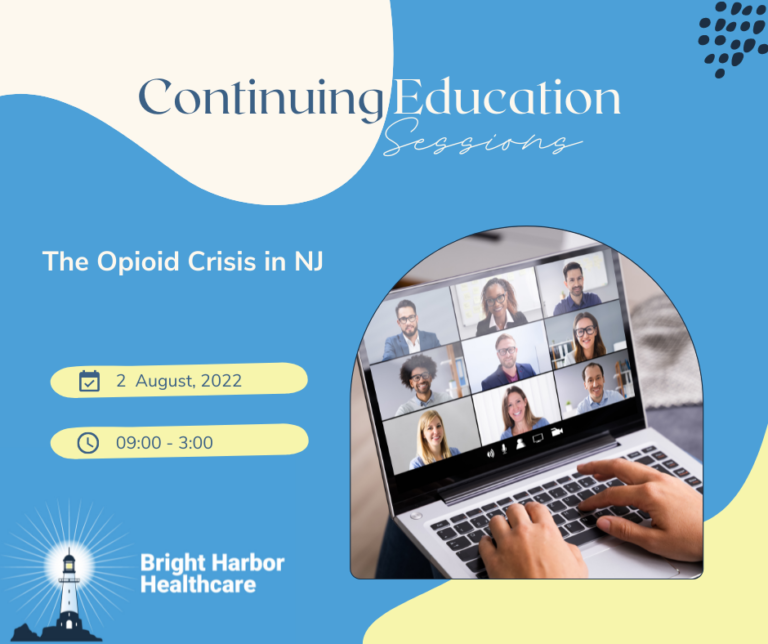 Event Details
 Date: August 2, 2022
 Time:  9 a.m. – 3 p.m. 
Pricing: $50.00
 Location: Online – Zoom Link will be provided after registration
For more Information: 
Contact: Hope Fitzgerald
Email: hfitzgerald@brightharbor.org 
Call: 732-349-3535 x733
Presenter: Glenn Duncan LPC, LCADC, CCS, ACS
Course Description:  
The goal of this interactive workshop will discuss the latest developments and trends regarding natural opiates, semi-synthetic opioids, and synthetic opioids. Participants will be able to identify national and local NJ trends with regards to prescribing practices and new legislation, opioid overdoses and trends with opioid use. Participants will be able to distinguish the difference between which drugs are considered naturally occurring opiates, which are considered semi-synthetic opioids and which are considered synthetic opioids. Participants will be introduced into the assessment of and treatment of Opioid Use Disorders via the DSM 5 criteria, the latest nationally recognized medication assisted treatment (MAT), or more recently known as medications for opioid use disorders (MOUD), and the non-medication assisted treatment approaches when working with clients. Participants will be able to identify three different medication assisted treatments (MAT/MOUD), and discussion of medicinal marijuana being added as an MAT option. Workshop participants will be introduced to a harm reduction treatment paradigm and will be able to identify at least 3 different harm reduction principles when working with clients. Finally, workshop participants will engage in an interactive case that will develop throughout the workshop and have different objectives (e.g., assessing a proper level of care, and then incorporating a harm reduction treatment orientation with the client in regards to their MAT/MOUD decision process).
Credentialing information:
This course is approved for 5 NBCC Clock Hours (LPC, LAC, LCADC, CADC, LMFT) of continuing education (NBCC Provider #6532). The Opioid Crisis in NJ: Current Trends and Evidence Based Treatment Options, Course #3604, is approved by the Association of Social Work Boards (ASWB) Approved Continuing Education (ACE) program to be offered by Advanced Counselor Training, LLC as an individual course. Individual courses, not providers, are approved at the course level. State and provincial regulatory boards have the final authority to determine whether an individual course may be accepted for continuing education credit. ACE course approval period: 06/01/2021 – 06/01/2023. Social workers completing this course receive 5 Clinical continuing education credits.
NOTE: This course satisfies the statutory requirement of one contact hour being in education programs or topics concerning prescription opioid drugs, including the risks and signs of opioid abuse, addiction, and diversion. This is pursuant to P.L. 2017, c. 341 for both LPCs 2[12.] 11.2 and LCSWs 2[11.] 10.2.